PARTIAL OUTFITTING PACKAGES
Voyageur Canoe Outfitters offers everything you need for a canoe camping trip into the Boundary Waters or Quetico Park.  Our 
Complete Outfitting Package
are for those individuals who need everything provided for them, creating an all-inclusive package. Our Canoe and Equipment Package is for those folks who want to provide their own food for their Wilderness canoe camping trip. Upgrade to a Kevlar Canoe or Kayak for $22/canoe/day
CANOE AND EQUIPMENT PACKAGE PER PERSON RATES
| | 3 days | 4 days | 5 days | 6 days | 7 days | Each additional |
| --- | --- | --- | --- | --- | --- | --- |
| Solo | $255 | $355 | $415 | $485 | $555 | $65 |
| 2-4 people | $245 | $325 | $395 | $455 | $505 | $60 |
| 5-9 people | $225 | $305 | $355 | $415 | $475 | $55 |
Canoe and Equipment Items
• Aluminum or Royalex canoe (can upgrade to Kevlar)
• Life jackets, paddles, and portage yoke
• Granite gear packs for food and gear
• Stove and fuel
• Sleeping bag, compression stuff sack, and sleeping pad
• Tent, ground cloth, and tarp
• Rope, shovel, and saw
• Bunkhouse stay the night before trip
• Breakfast in the lodge the morning of trip
• Map, routing session
• Towel and shower upon return
FOOD AND CANOE PACKAGE PER PERSON
| # of people | 3 days | 4 days | 5 days | 6 days | 7 days | Each additional |
| --- | --- | --- | --- | --- | --- | --- |
| 1-4 | $250 | $300 | $360 | $430 | $475 | $85 |
| 5-9 | $230 | $275 | $345 | $400 | $440 | |
FOOD PACKAGE
| # of people | 3 days | 4 days | 5 days | 6 days | 7 days | Each additional |
| --- | --- | --- | --- | --- | --- | --- |
| 1-4 | $200 | $235 | $280 | $340 | $375 | $50 |
| 5-9 | $185 | $210 | $260 | $305 | $330 | |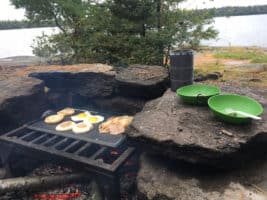 Food packages include everything you need to prepare your meals, including the food and the cooking equipment as well as the following items.
Food Pack – Granite Gear
Cook Kit and Utensils
Misc. Clean Up (paper towels, sponges, soap, etc.)
One Map
Stove & Fuel
Bunkhouse, Breakfast, Shower
Routing Session

Voyageur's Guarantee
We promise to make your participation with Voyageur a success. Please let us know if any part of your experience, which was under our control, did not meet your satisfaction. We will make it right for you!