Voyageur Canoe Outfitters Activities 
Voyageur Canoe Outfitters has year round lodging located at the end of the Gunflint Trail on the edge of the Boundary Waters Canoe Area Wilderness. Come enjoy all seasons with us on the edge of the wilderness. 
Spring, Summer and Fall – Come watch bald eagles soar overhead, listen to the loons and see moose browsing on shore or swimming across the river. Wildlife is plentiful and most guests see fox, deer, marten and more. Take a day trip into the Boundary Waters and paddle a canoe or kayak in the pristine lakes. If you prefer a boat and motor then Saganaga allows up to a 25 horsepower motor that will take you exploring where you want to go. Fishing is excellent for all species including the walleye, northern pike, smallmouth bass and lake trout. Hiking trails abound and entertain those who prefer to experience the sights and sounds of nature by foot. Walking in the woods in search of geo caches, grouse, deer or just solitude is a rewarding pastime. Check out our neighboring Chik-Wauk Museum which is open from May through mid October.
Winter – Winter is another magical time of the year where quiet solitude fills the air. Snow blankets the forest and lakes freeze over to expand the area you can explore on foot, by ski, snowshoe or snowmobile. Ice fishing for lake trout is an adventure in and of itself. It is a magical time to be on the Gunflint Trail and to explore your favorite lakes with a new appreciation. We often hear from our guests about how amazingly quiet the area is in the winter and how happy they are they made the decision to head up the trail. If seeing the Boundary Waters in the Winter is something you have always dreamed of, wait no longer and come see for yourself how incredibly relaxing it is.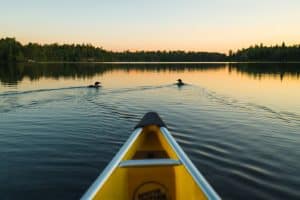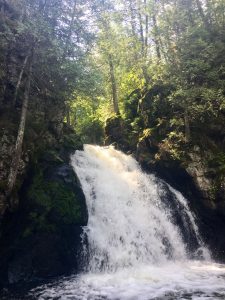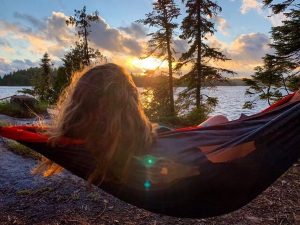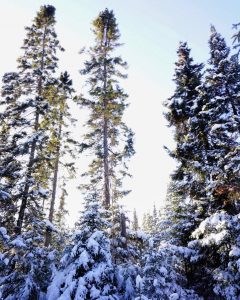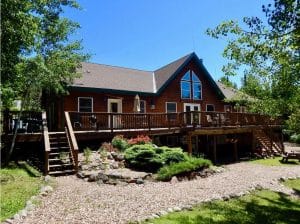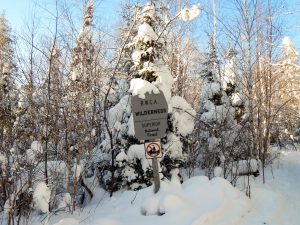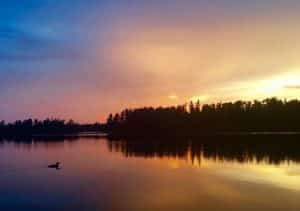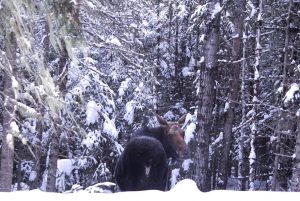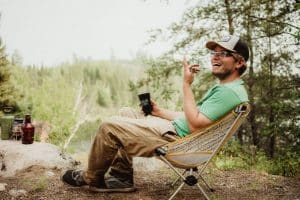 HIKING ON THE GUNFLINT TRAIL
Hiking Trails are abundant on the Gunflint Trail. Within ten miles of Voyageur Canoe Outfitters you'll find the Magnetic Rock Hiking Trail, Centennial Trail, Kekekabic Trail, Seagull Lake Nature Trail and the many trails on the Chik-Wauk Museum grounds. There are a number of other hiking trails to enjoy on the Gunflint Trail and with towering pines, meandering streams and abundant wildlife, hiking in the vast wilderness is a favorite activity of our guests. Try mountain biking for a quicker overview of the area. The scenery provides a beautiful backdrop. You will notice the smell of pine needles while pedaling through the woods.
On The Water Day Trip Options When Staying At Voyageur Canoe Outfitters
Day trips taken by by canoe or boat and motor are a wonderful adventure. No need to break your back portaging, just bring a daypack and 'you're set.' Explore the BWCAW without all the gear!
Gulf – Romance: Hike into Gulf Lake on our Trail. We have two canoes on Gulf for our guests' use. Picnic, pike fish or tour the lake. Canoe across Gulf and take a 10-yard portage into Romance Lake. See the scars of the 1995 forest fire or fish for Smallmouth. You will see no other people.
Morris: Paddle or tow to James Bay & portage 80 rods into Morris Lake. There's great Walleye, Pike and Smallmouth fishing, also no people.
Sag – Red Rock -Alpine -Seagull: This loop is a 8-12 hour day trip. There are 3 lakes, no motors, great wildlife. A neat BWCA experience. Shorten to 5 – 7 hours by using a tow to Red Rock Portage.
Seagull Lake: Day trip and explore Seagull. 1999 is the first year for no motors on this lake. Canoe past 75-foot palisades stop and hike to the top for a wonderful experience.
Silver Falls: Take a tow to Hook Island. Paddle into Canada via the Cache Bay Ranger station. Paddle three hours to silver falls. During this adventure you can even stop and view pictographs.
Larch Creek: Begin your adventure in Larch lake passing through Clove Lake cruising down Granite River and into Gunflint Lake. This one-day wilderness adventure has it all, great fishing beautiful river scenery, small creek paddling and a short portage.
Rose Lake and Rose Falls: This is one of our favorite waterfalls along the Gunflint Trail. You will start from Bearskin Lake where you will paddle and portage into Duncan Lake. Once in Duncan Lake take some time to fish or enjoy the scenery as you head towards the Rose Lake portage. Once at the Rose Lake portage you can leave your canoe and walk to the falls. Take some time seeing the falls and have a quick lunch before heading back to your canoe.
FISH AND EXPLORE FAMOUS SAGANAGA LAKE WITH A BOAT AND MOTOR
Saganaga is famous for the Minnesota State Record Walleye. Come try your luck at catching the next record
Walleye, Lake Trout, Smallmouth Bass, or Northern Pike from the comfort of a boat and motor. Whether or not you are catching fish or simply exploring the island studded Lake Saganaga and it's many quiet bays, a boat ride makes exploring this beautiful wilderness lake even more enjoyable.
Our location on the Seagull River provides direct access to Saganaga Lake. Because Saganaga is located within the BWCAW, USFS travel permits are required and it is recommended that you reserve the permits in advance. Call us today to reserve yours now!
There is a 25 hp maximum on the Minnesota side of the lake. You may travel from Minnesota into Canada with a Remote Border Crossing Permit. We offer Lund, Alumacraft and Northwoods 14ft-16ft boats with bench seats. Each boat is equipped with oars, life vests, and anchors. We use 15 hp. Mercury Motors with each of our boats and include gas once a day with your rental. We follow all Minnesota boating rules and regulations. Minnesota specific rules and regulations can be found via the DNR website. We ask that you sign a rental agreement after booking that will go over Voyageur specific rules with all of our Boat and Motor rentals. If you have any questions about these beforehand please feel free to contact us!
Boat and Motor Rental Rates
| Item | Daily Rates | Weekly Rates |
| --- | --- | --- |
| 16′ Boat w/15 hp motor | $120 | $720 |
| Boat Only | $50 | $260 |
| Motor Only(15hsp) | $75 | $410 |
Our guests at Voyageur Canoe Outfitters enjoy many other varied activities including horseback riding, berry picking, photography, birding and wildlife viewing. You can take day trips to historic Grand Marais or visit the Grand Portage Casino. Thunder Bay Canada is not far. Just ask us! We are eager to give you tips and advice to make your trip an enjoyable and memorable one.

Voyageur's Guarantee
We promise to make your participation with Voyageur a success. Please let us know if any part of your experience, which was under our control, did not meet your satisfaction. We will make it right for you!