ABOUT VOYAGEUR CANOE OUTFITTERS STAFF
Voyageur Canoe Outfitters is looking for 8-10 individuals who will be a part of the Voyageur Crew this summer. We are located at the end of Minnesota's Gunflint Trail approximately 56 miles from Grand Marais, MN which is the nearest town. There is no cell phone serivce and limited wifi, we welcome our staff to disconnect for the summer and enjoy the natural surroundings we get to call home. 
We are adjacent to the Boundary Waters Canoe Area Wilderness and surrounded by the Superior National Forest. If you can see yourself paddling a canoe, hiking a trail or camping out beneath the stars on your days off then Voyageur is the place for you.
Our Crew is able to use our canoes and camping equipment at no charge during their employment. We try to arrange your schedule so you are done by 4pm on the day before your days off and so you don't start until 10am the day after, allowing you to spend two or three nights camping out in the BWCA. This lets you to take full advantage of the two days off you receive each week.
In addition to the love of wilderness our Crew members must love to make other people happy. We are part of our guests' vacation and we want them to have a wonderful experience. In order to do that we need the help of hard-working, happy-go-lucky and enthusiastic crew members. We take pride in offering a one of a kind outfitting experience and we along with our crew must be willing to go the extra mile whether it means starting the day early or staying after closing hours.
We ask our Crew members to commit to a minimum of a ten week contract period and prefer a minimum twelve week contract. We get ready for the season in April and as year round residents of the Gunflint Trail we are open until people quit paddling. We like to have our Crew here during the busier months of the summer beginning in the middle of May and into the middle of September. We do hire a few people to work earlier and to stay later in the season.
We contribute our success to the wonderful employees we have had over the years. Our guests have come to expect friendly, outgoing and caring Crew members at Voyageur. We specifically look for optimistic, flexible and good natured individuals to fill our positions. While experience in the BWCA is helpful it is not necessary to be successful at Voyageur. We will teach you the necessary skills upon your arrival and will work with you until you have mastered them.
Our Crew members perform a number of different jobs throughout the season based upon their abilities and interests. Everyone participates in the cleaning of bunks, cabins and outfitting gear. Most are trained in the store and office to assist on the cash register and help guests. Some Crew will transport guests via towboat or vehicles, others will work lakefront and pack food or equipment. There are a variety of other jobs and tasks including but not limited to yard work, serving breakfast, recycling, meals and more. Bored is not something we hear from our Crew members.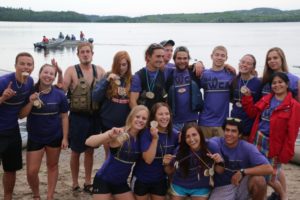 We pride ourselves in being a fun, fair and flexible place to work. Along with the free use of our equipment our Crew members receive discounts in our store, opportunities for pro- purchases, and tips from guests. We offer a competitive wage based on experience. Subsidized room and board are available.
The best way to learn about the Voyageur Crew experience is straight from one of our past employees! If you would like to talk to past employees of Voyageur Canoe Outfitters then we can provide you with their information so you can learn more about life at Voyageur. Alternatively, see the video below to get a look into why you should apply to Voyageur! An application is available online and you can email it to us at vco@voyageurcanoeoutfitters.com, or mail it to us at Voyageur Canoe Outfitters, 189 Sag Lake Trail, Grand Marais, MN 55604. Feel free to call us with any questions you may have 218-388-2224.